Dr. Vu Nguyen, DC
Dr. Nguyen is a Board Certified Chiropractic Physician who graduated from National University of Health Sciences (NUHS) in Lombard, Illinois where he earned his second Bachelor's Degree in Human Biology and his Doctorate of Chiropractic. While at NUHS, Dr. Nguyen was fortunate enough to work alongside some of the most knowledgeable and esteemed doctors in the field. Before his Doctorate, he earned a Bachelor's Degree from the University of Illinois at Chicago/Champaign. Titleist Performance Institute Level 1 Certified health care professional.
While earning his Doctor of Chiropractic, Dr. Nguyen was an assistant to Dr. James Jedlicka - Associate Professor, Chiropractic Practice. The knowledge of flexion-distraction that he learned from Dr. Jedlicka allowed him to broaden his approach to health care when treating patients. During his internship at NUHS, Dr Nguyen was able to enhance his acupuncture skill with the direction of Dr. Yihyun Kwon, Assistant Dean who is in charge of National's Acupuncture and Oriental Medicine degree programs at NUHS.
In addition, Dr. Nguyen is an Acupuncture Certified which is bestowed by the NUHS. Other certifications include Cox Flexion-Distraction technique. He is also a member of the American Chiropractic Association (ACA) and Virginia Chiropractic Society (VCA).
Debbie Dey Hastedt, LMT
Community Outreach & Events
Debbie is a licensed massage therapist in the commonwealth of Virginia and is a practitioner of clinical massage. She is nationally certified in Therapeutic Massage and Bodywork (NCTMB) and is a professional member of the American Massage Therapy Association (AMTA) and the American Massage and Bodywork Professionals (ABMP). Debbie is an instructor of massage therapy at the American Massage and Bodywork Institute in Vienna, VA.
Debbie specializes in rehabilitative massage and clinical massage protocols, including deep tissue massage, sports massage, myofascial release, trigger point therapy, prenatal massage and lymphatic drainage. The benefits of clinical massage include relieving direct & referred muscle pain, releasing painful & tender trigger points, loosening scar tissue, increasing range of motion, increasing flexibility, improving posture, improving circulation, alleviating headaches, alleviating stress, releasing sinus pressure, encouraging relaxation, promoting deeper & easier breathing, strengthening the immune system, improving the speed of injury rehabilitation, enhancing post-operative healing and aiding in sports strengthening & conditioning.
Debbie has been a resident of Northern Virginia since 2006. She was raised in Storrs, CT, she went to college at the Ohio State University in Columbus, OH and she went to massage therapy school at the National Massage Therapy Institute in Falls Church, VA.
Netta Pope Chiorello, MEd, LMT
Netta has enjoyed a 30-year career in health and wellness as educator, business owner, licensed massage therapist and professional mentor. With additional professional studies in the endocannabinoid system and Healer certification, she specializes in customizing health solutions to change lives.
Consultations start with a thorough intake, asking questions, listening, assessing information and then recommending products, services or practices that will move each individual further towards their health goals.

Sharon Kim L.Ac., MSA, RN, BSN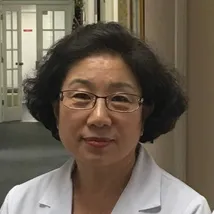 Sharon Kim is a Virginia Licensed Acupuncturist and is National Certification Commission for Acupuncture and Oriental Medicine (NCCAOM) certified in both Acupuncture and Herbology. She also has been a Professional Registered Nurse for more than 15 years. She has a unique approach that combines both Eastern and Western Medicine.

With her knowledge of Eastern Medicine and Western Medicine, she focuses on keeping the balance of Yin and Yang, promoting the flow of Qi, and improving the immune function, all of which helps maintain the body in a well-balanced state and reduces pain and discomfort. She uses her Western Medicine experience, which include Anatomy; Physiology; and Pathology, to make more detailed and informed treatment decisions.
Her practice involves treating and alleviating symptoms such as Neuromuscular Pain (Lower back Pain, Shoulder Pain, Sciatica, Arthritis, Golfer's Elbow, Tennis Elbow, Bell's Palsy, etc.), Sequelae of Stroke (Facial Paralysis, Hemiplegia, Hemiparesis, etc.), Edema (Limbs Edema and General Body Edema), Gynecological Disorder (PMS, Menopause Syndrome, Irregular Menstruation, Leukorrhea, Infertility, etc.), Genito-Urinary Problem (Incontinence, Enuresis, Impotence, etc.), Emotional and Mental Problem (Anxiety, Depression, Stress, etc.), Headache (Migraine, Tension Headache, General Headache, Chronic Headache, etc.), Allergy, Gastro-Intestinal Problem (Indigestion, Acid Reflux, Constipation, Hemorrhoids, IBS, etc.), Skin Problem (Psoriasis, Eczema, Itching, etc.).